production labor
moxie event lighting provides a full range of labor services.
from shop prep to on-site supervision, moxie provides knowledgeable production support to fit your needs.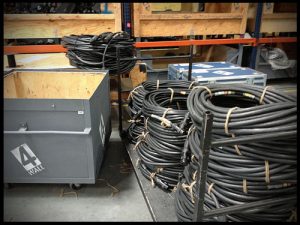 small event lighting
lighting is one of the easiest and most dramatic ways to change the atmosphere of a room. when lighting a space, the elements you want to see are emphasized while everything else fades away. you can choose how your event looks and feels – soft, warm, bold, edgy – or customize the space with your colors, logo, or monogram. the options are endless! lighting is also an easy method of tying together all of your design elements (linens, floral, etc.) and will always get your guests to say "wow!"
gobos
a gobo is an awesome little piece of metal or glass that goes into a lighting fixture and projects an image onto walls, dance floors, ceilings, or any other surface present in an event space. moxie offers our clients both stock and custom gobo options.
stock gobos are a unique (and less expensive!) way to break up the light or highlight certain parts of your event. our stock gobos range from specific images to soft, abstract shapes.
custom gobos enable you to personalize your event with your monogram, name, date, or company. moxie offers both steel and glass template options, or you can submit your own artwork for a truly custom image!